One of my favorite things to order from the Cuban restaurant near my house is Ropa Vieja. It is honestly one of my most beloved dishes. When I came across this recipe on Food Network's website I was eager to try it out. Bonus: it's a slow-cooker meal! Which means less time standing in the kitchen, more time playing with Baby J!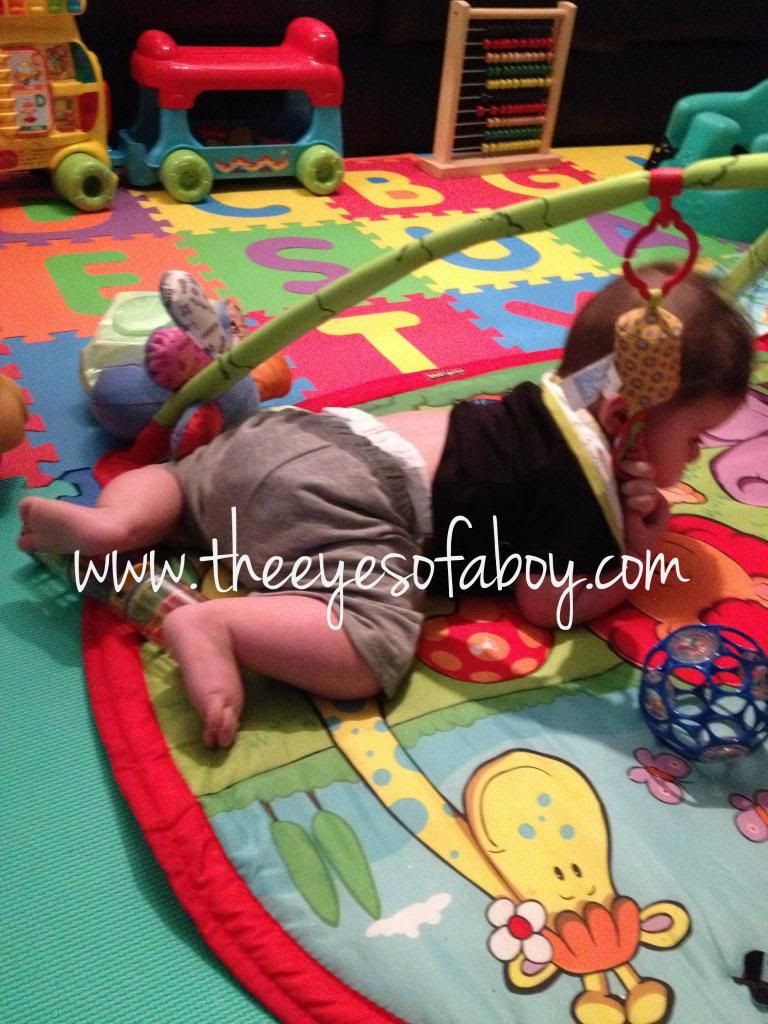 Playing with his toys while Mama prepares dinner
It came out pretty good. The ropa vieja from the place near my house has less veggies and adds in more (I think) tomato paste/sauce. Theirs is thicker but it's mostly just meat. This recipe is a better balance of meat and vegetables.
What you'll need:
Ingredients:

1 15-ounce can crushed tomatoes
3 tablespoons ketchup
1 tablespoon apple cider vinegar
2 cloves garlic, minced
1 1/2 teaspoons ground cumin
1 jalapeno pepper, thinly sliced (with seeds) — I skipped this
Kosher salt
1 1/2 pounds skirt steak or flank steak
2 bell peppers (1 red, 1 green), sliced 1/2 inch thick
1 small onion, thinly sliced
3 tablespoons chopped pimiento-stuffed green olives, plus 1 tablespoon brine from the jar — I left this out, too.
Cooked white rice, for serving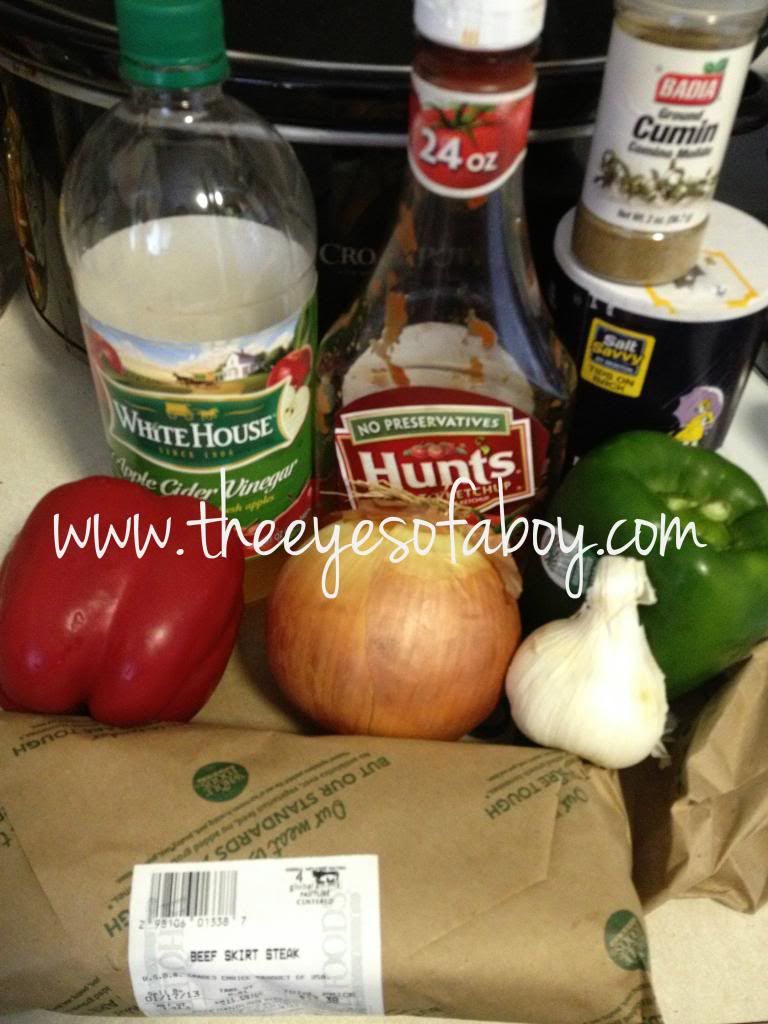 Ingredients!!
Not pictured – can of tomatoes, jalapeno, olives, rice
Directions:
Combine the tomatoes, ketchup, vinegar, garlic, cumin, jalapeno and 3/4 teaspoon salt in a 5-to-6-quart slow-cooker.
Add the steak, bell peppers and onion and toss to coat.
Cover and cook on low, undisturbed, 8 hours.
Uncover and skim off any excess fat.
Coarsely shred the meat with 2 forks, then stir in the olives and olive brine.
Serve over rice.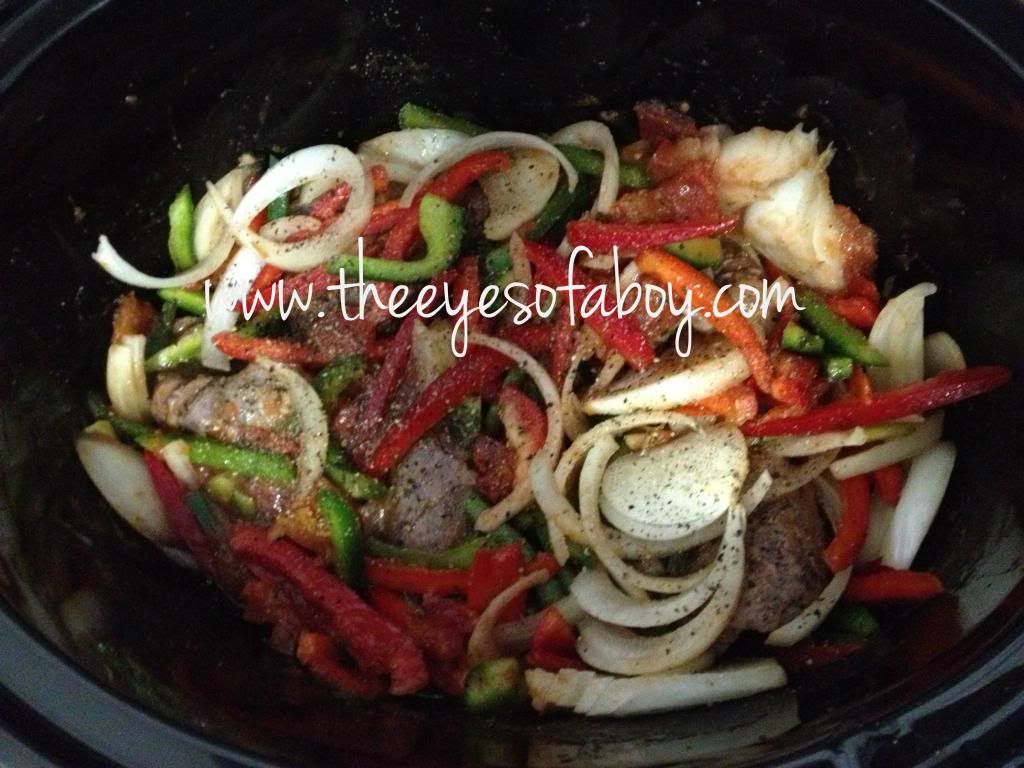 All ingredients added to slow-cooker…Ready to cook!
What I changed: I left out jalapeno, as I didn't have it. I also left out the olives…simply because I don't like them.
I also lightly browned the steak in a frying pan (with a small amount of olive oil, garlic, salt and pepper) for about 5 minutes to lock in some of the flavor before putting the meat into the slow-cooker with the rest of the ingredients.
Steak in frying pan
I didn't have 8 hours to wait for dinner to be ready, so I cooked it on high for 4 hours. Then, I switched it to low for 1 more hour. It was very tender and shredded very easily with a fork. In fact, most of it was already shredded when I stirred the ingredients after 4 hours.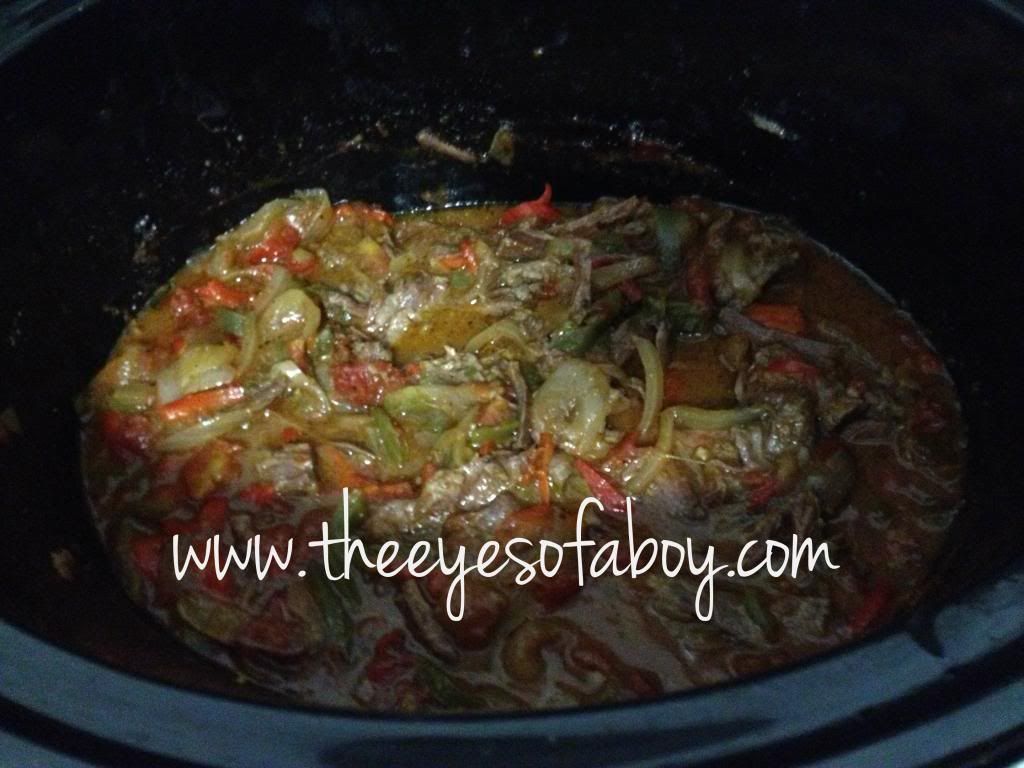 After 4 undisturbed hours (please excuse the lighting!!)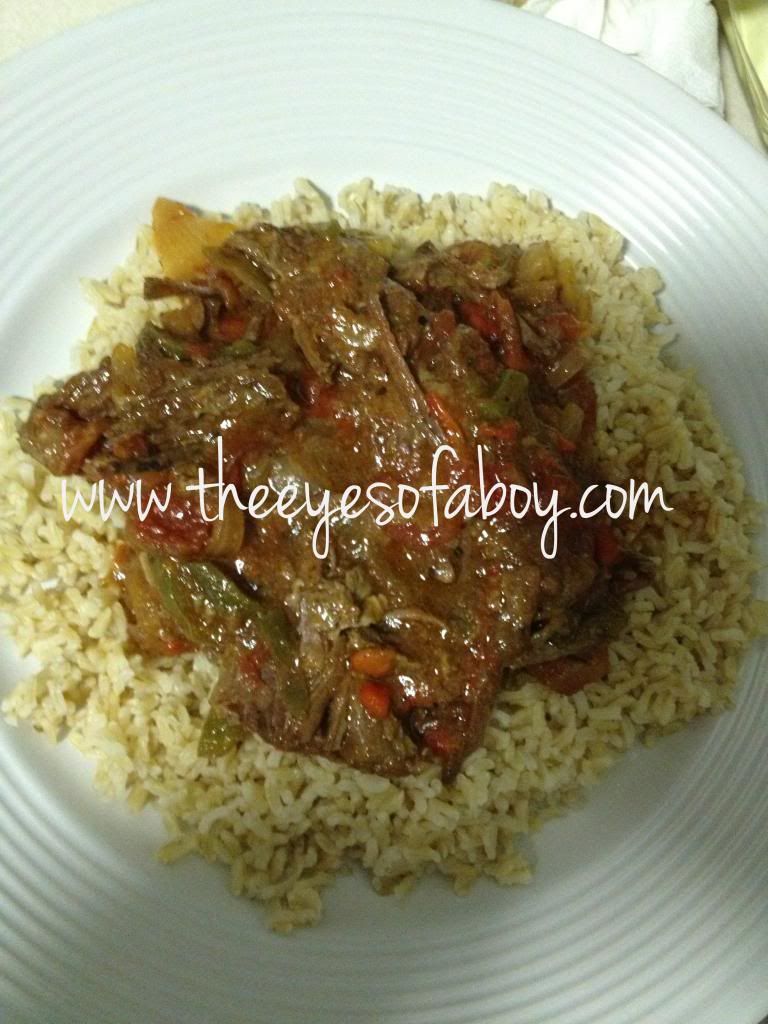 Finished Meal – YUM!
There were NO LEFTOVERS!!
Happy cooking, and enjoy!
As always, thanks for reading 🙂