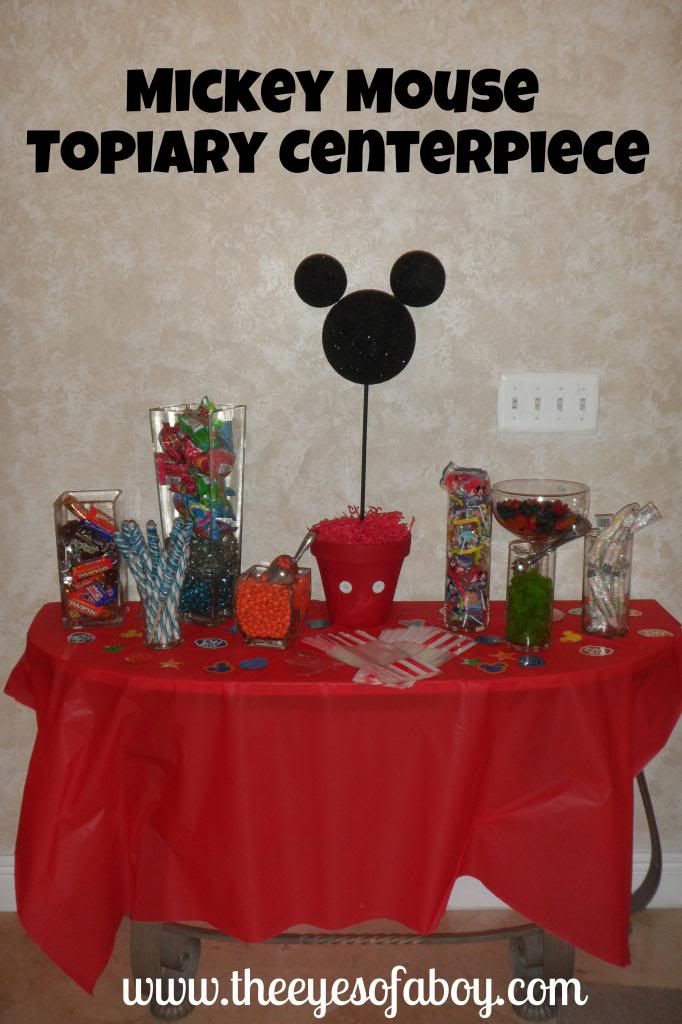 For Baby J's Mickey Mouse Clubhouse birthday party, I made a Mickey Mouse topiary to be the centerpiece of the candy bar. It came out pretty cute, if I do say so myself, and was fairly simple to make.
Supplies you will need:
(1) Terracotta pot
(1) Large styrofoam ball (for the head)
(2) Medium styrofoam balls (for the ears)
(1) square styrofoam brick
Black acrylic paint
Red acrylic paint
(2) white buttons
(2) wood dowels
(1) bag of red paper shreds
Black glitter (optional)
hot glue gun or another kind of strong glue
FYI – I got all of my supplies at Michael's Arts & Crafts, and I'm sure you can find them in any craft store.
First, use the red acrylic paint to paint the terracotta pot red, inside and outside.
Next, use the black acrylic paint to paint all 3 styrofoam balls black, and both wood dowels black, too. While the black paint was still wet, I sprinkled the head and ears with black glitter to make it extra pretty and sparkly 🙂
Let everything dry (I let mine dry overnight)
Once dry, hot glue the 2 white buttons onto the front of the now red pot to look like Mickey's pants.
To form the head, I found it was really easy to cut one of the wood dowels into 2 small pieces and use them to attach each ear (small/medium styrofoam balls) onto the head (large ball). At first, I tried to hot glue the ears on, and it didn't come out very nice. The dowels are easy and mess-free and require no drying time 🙂
Insert the other wood dowel into the bottom of the Mickey head
Hot glue the square styrofoam brick on the bottom inside of the pot (this will be used to anchor the Mickey head)
Anchor the dowel with the Mickey head attached into the styrofoam pot
Fill the pot with the red paper shreds!
Display at your party! 🙂