Being pregnant somehow opens you up, like a vulnerable little frog in a 10th grade science classroom, for the general population to make observations about your current physical state. I have collected some of the finest quality comments from my own experiences (and some of my friends) as a pregnant specimen, for your enjoyment and education on things you should never say to a pregnant woman: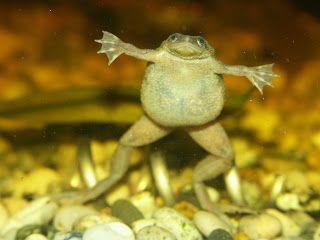 Pregnant Frog
1. When are you due? You look like you are going to explode.
Ok, I kid you not, this was actually said to me. At 32.5 weeks pregnant. I went to go get a mani/pedi and thought it would be a lovely relaxing experience. Upon arriving at the salon, I was instructed to pick out my polish color, and then I was blind sided by this awesome comment from a little lady who worked there. I mean, doesn't every pregnant woman want to hear she looks like she is going to spontaneously combust?!
2. You look exhausted.
Yes, I know. Thanks for confirming what the mirror already told me. I guess I need a better under-eye concealer so I don't frighten the unsuspecting bystanders.
3. Wow. Are you having twins?
Nope, no I'm not. I'm just apparently as big as a woman who is carrying two human fetuses. Thanks.
4. When my daughter was pregnant she knew she was having a girl because she looked so ugly. Are you having a girl?
This little gem happened to my best friend who works in a retail store with apparently really sweet shoppers.
Yup, its a girl…Excuse me while I go cry in the bathroom.
5. Are you done having kids after this? Will you have your tubes tied after the delivery?
Hmmm, well, let's sit down and I can write you a very detailed dissertation of my reproduction plans.
6. Oh, wow, pregnancy is making you gain back here too (as the little old Grandma inspected my friend's butt)…
Listen, Grandma, I know it's hard to believe, but Sir Mix-a-Lot is hiring me for a photo shoot for the album cover of the re-release of Baby Got Back.
7. Was it planned?
This is self explanatory of why it is obviously so freaking rude. Next time we are about to conceive, I will invite you over to watch.
8. [In a restaurant with my parents…a nearby patron says…] Can she (me) go to the restroom by herself? Are you sure she isn't going to give birth in there?
Mortified. Dead. I died. I fell down and passed out and died on the floor of embarrassment. Really, lady? In Carrabba's on my Dad's birthday, this is exactly the dinner table conversation that I imagined. Thank you for setting the mood for our celebration.
Feel free to comment with your best prize-winng comments.
As always, thanks for reading! 🙂