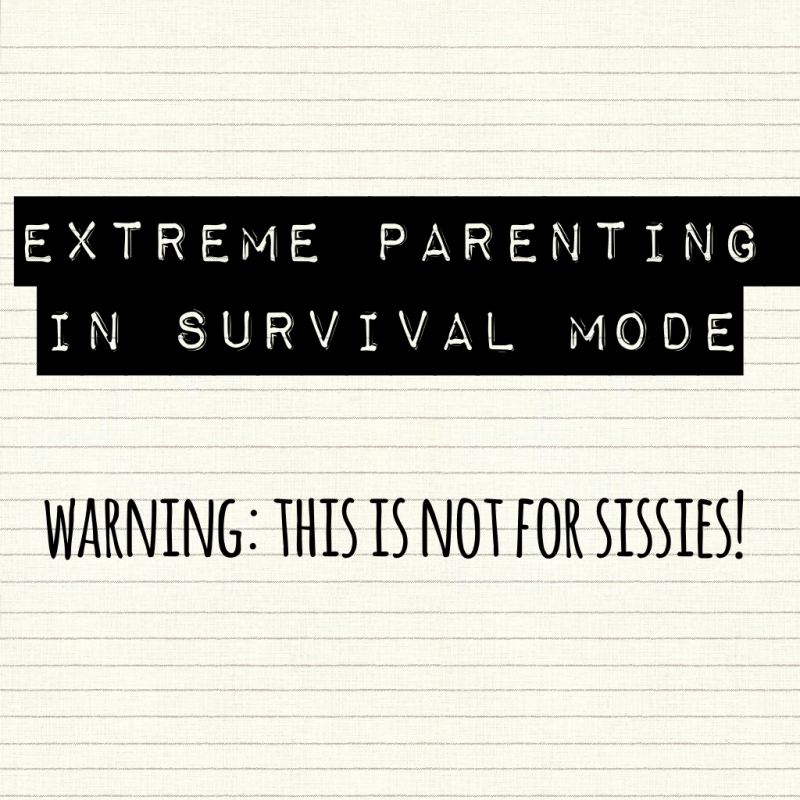 I have never been much of a fan of extreme sports. In fact, I don't really like many sports at all. I mean, I will watch UFC with my husband when we order it on Pay Per View, and I also go to the occasional football game…but I am not a serious sports person.
I played softball in high school for one year, on the JV team (you know, the team that they put you on when you don't know what in the world you're doing, but they don't have the heart to tell you that you're a loser). I also played soccer for my city's recreational league for two seasons, and I have a confession: I never made one goal. I don't think I have publicly admitted that before, because it's pretty freaking embarrassing to never have made one goal! Anyone remember that movie Ladybugs from the 90's with Rodney Dangerfield? Yea, I could have been on that disastrous little team.
Anyway, my long winded explanation of how I am the world's worst sportsman should give you an idea of how ill prepared I was for this Extreme Parenting role I have now taken on in the last three weeks. Baby L turned three weeks yesterday, and let me tell you, parenting two little boys, 13.5 months apart should come with some sort of instruction manual…or a mandatory nanny, or both.
I am not at all complaining about having these amazing little creatures. They are the best thing that has ever happened in my life. I never thought I would be so lucky to have two healthy humans back-to-back after all of our devastating losses…but thankfully, here I am.
The thing is, even though I am beyond thankful for this life that I prayed and wished so hard for, it can be trying at times. I was talking to my friend on the phone the other day about maybe getting a nanny for a little while until I have a better grasp on this two-kid thing, and she bluntly said,"Look, you're a stay at home mom with two kids, you should be able to handle it. Women do it with 3, 4, and 5 kids."
I get that. Yes, I guess I should be able to do it. A man has walked on the moon, so yes anything is possible. I just seriously cannot comprehend how mothers of multiples and/or single mothers do it. Kudos to them, because I am having a hard time holding down the fort with only two. Cooking, cleaning (my house looks like a bomb went off inside of it and we are living among the mess), laundry, etc…how does it all get done amid the endless diaper changes and feedings?
Although it can be trying, this is also been then most magical three weeks ever. It could just be that I am hallucinating from functioning on four hours of sleep each night (ps – I am typing this as I am pumping my boobs…TMI?) but in all honesty, seeing Little J give kisses and hugs to Baby L is absolutely the cutest thing in the world. It makes me feel like the sleep deprivation, missed social events (and missed showers), and spending endless hours in my pajamas will all be worth it. These two little boys will have a sibling and a best friend in each other, and that is quite possibly the greatest gift that someone could have in this world.
Some highlights from the past three weeks:
Baby L getting readmitted to the hospital less than 24 hours after being discharged from the hospital for high jaundice levels. Complete chaos having to check back into (a different) hospital because the one we gave birth at didn't have a pediatric unit. Thankfully he was all better after being under the lights for around 10 hours.
Finally getting out of the house with both kids to go grocery shopping and upon arrival at the grocery store, I realized Little J had a big poop in his diaper. So, while changing him in the car in the parking lot at Whole Foods, I placed the dirty diaper and wipes on the dashboard. All of a sudden, a dirty poop-filled baby wipe fell off of the dashboard and onto my brand new Marc Jacobs bag. That was really cute.
I start my day around 4:30 am. I am not a morning person, so this has been quite an adjustment. Baby L wakes up to eat at 4:30 am and by the time he's done, Little J has woken up in his crib and is ready to go…he needs his diaper changed, and a cup of milk, then Baby L needs something…and it goes back and forth all day between both boys.
There are many moments throughout the day when both kids are screaming at the same time. They play off of each other, and I'm more than certain that they are sending each other secret baby signals to keep screaming as loud as they can for as long as possible just to see when mommy loses it.
Yesterday I carried both kids down the stairs at the same time, just so I didn't have to hear someone crying. Supermom? Yes, I think so. So much for "no heavy lifting" after giving birth.
And now I will attempt to get some rest…before Baby L needs to eat in 30 minutes from now 🙂
I know this newborn stage won't last forever, so for now survival mode will have to cut it…and lots of coffee and Diet Coke to keep me awake. Before I know it, these two little boys will be big boys, and I will be wishing for these days again.