Baby L turned one month old on Saturday. I can't believe how quickly time flies by when you have children. Delirious, sleepless nights blend into sunny days filled with laughing, crying, and endless diapers…fading back into the night time routine, all in the blink of an eye. It's easy to lose track of everything going on around you…
I knew that Little J would have some jealousy issues with Baby L when he was born, but I was hoping he wouldn't. Maybe I was in denial. Then, about two weeks ago, it happened. He hit me, his daddy, and brand new Baby L all in one day. He was acting out. I'm not even sure it was for attention, because he was getting plenty of attention regardless of the new baby. I just think he was confused and it was starting to settle in for him that Baby L was not leaving, and that the baby was a new part of our family.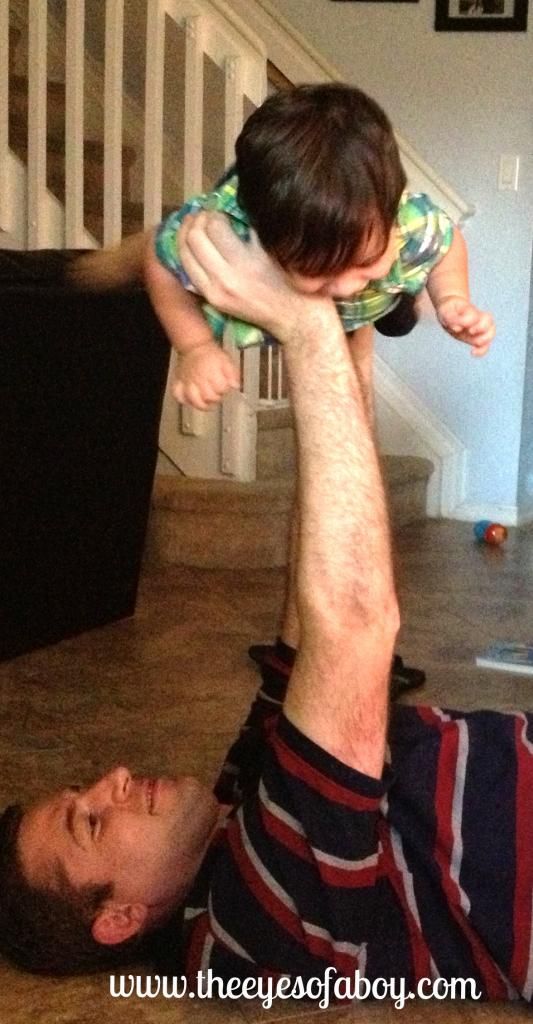 Airplane with Daddy 🙂
It is so important to me that Little J does not lose his sparkle and funny personality. I don't want him to lose his identity, his unique quirky little qualities. He is a part of this family, but he is also an awesome individual. At 14.5 months old, he is definitely one of the coolest people I know. He is one of the parts that makes up our whole family unit, and he is vital to our existence…but we are vital in helping him shape who he is as an individual person. We are responsible to foster the growth of his imagination, his self-esteem, how he sees himself and how he treats others in the world.
I have been making a point of spending alone time with him. For the past two weeks, we make a "date" on Tuesday's when we go to our mommy and me class, then out to lunch. Just me and Little J. So far, he seems to be enjoying this a lot. He also has been spending alone time with my husband, and with his grandparents. Grandma took him to mommy and me yesterday, and he had the best time!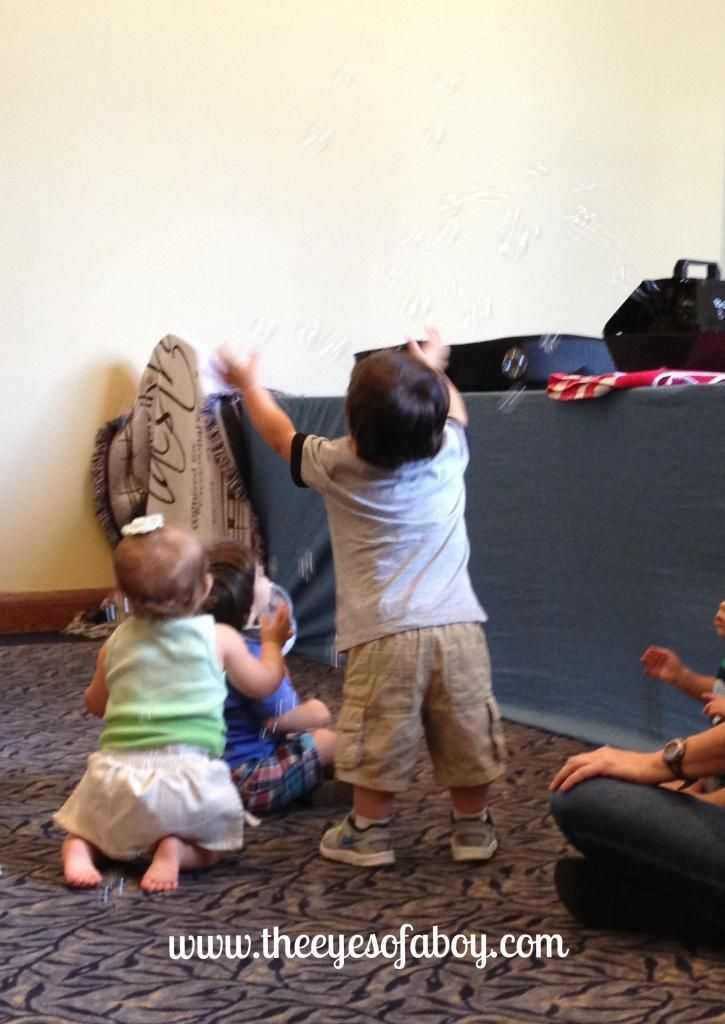 Catching bubbles at mommy and me class
All of this effort to help him with the transition of gaining a sibling has really shown to be beneficial. He hasn't hit anyone in a few days (thank goodness!!), and he seems to be more comfortable with the family new dynamic. When he sees his brother he puckers his lips to kiss Baby L, and always points to him and says "baaaaaaabyyy". Little J really loves his bother, it is so sweet to watch and makes all of this craziness and chaos worth it.
I hope to be able to spend individual time with each of my boys as they grow and change, even when they are older, I want our bond to be unbreakable. I want to let them know that they are always loved, always important to me, and they are valued for their special individual characteristics…as well as valued parts of the whole entity that is our family.