Today was grocery day. Not fun, but it must get done. First we went to Sam's Club to get diapers, paper towels and toilet paper. The mundane, yet necessary paper goods in life. Somehow, two 6 pound bags of frozen chicken made their way into our cart. 12 pounds of chicken. A whole lotta poultry.
Next, we went to Whole Foods to continue the rest of our grocery shopping. Unfortunately, the frozen chicken was still in the car. I figured we would have to throw it out. My husband has a joke with me that we should just throw out half of all of our groceries on the way out of the door of the grocery store, because we never end up using them and they go to waste anyway…so in an effort to save refrigerator space, we should just toss it…haha husband :-/
When we got back to the car, the chicken was actually still frozen, but it was starting to defrost a bit. Obviously, I wasn't going to stick it back in the freezer. So, instead of wasting it, I came up with a genius plan to cook it all as soon as we got home. Yup, all 12 pounds of chicken.
I decided to make four different meals. I boiled some chicken, then shredded and dressed it up, to make chicken salad. I baked some and just made simple seasoned chicken breasts. Then, I took out the crock pots (yes, I have two) and made some crock pot chicken chili in one, and mojo chicken in the other slow cooker.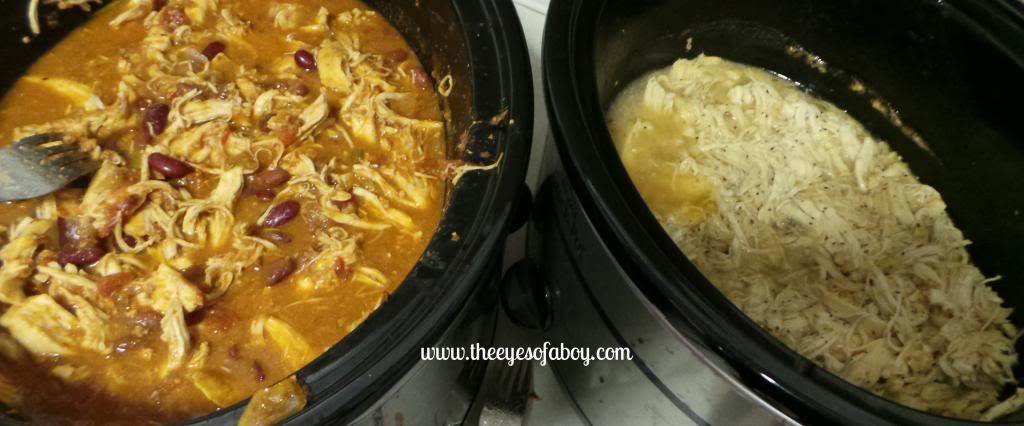 Ok, so here is where I remind you, dear reader, that I have a 14 month old and a 3 week old. In all fairness, Little J was having a sleep over at Grandma's house. So, I only had Baby L at home. In between feedings and diaper changes and regular house hold stuff, I am in the kitchen making FOUR meals….while wearing Baby L in my Moby wrap.
Before my husband went up to bed, he came in the kitchen and gave me and hug and kiss goodnight and said to me "Did you ever think back in 2003 when we (insert inappropriate for blog words) that we would ever be here, with two babies, while you are barefoot in the kitchen making all of this chicken?"
I responded to him quickly "I hoped we would" 🙂
…and here we are.
Our marriage has most certainly not been perfect. In fact, it was really rocky at times while we were trying to have a family. I am beyond happy that I have been blessed to be able to cook 12 pounds of chicken, for four hours, barefoot in the kitchen, with a baby strapped to me.
I love that man, and I love our little boys…and I hope I love my crock pot chicken chili, too, because we will be eating it for a while!