Today I was inspired by the tons of pictures on Facebook of snow in so many places in the US…and a little jealous of the cold winter weather, as I sit here in South Florida in 80 degree weather. I thought I'd bring a little bit of the winter to us with our Peppermint Play Dough Winter Sensory Bin!
Peppermint Play Dough Recipe:
Ingredients:
2 cups flour (+ a little extra for dusting)
1/2 cup salt
1 cup HOT water
Directions:
-Add flour and salt together in a bowl
-Pour in water, 1/2 teaspoon peppermint extract, and add in enough red food coloring to create a deep red color
-Mix ingredients together with a spoon, then as it thickens use your hands to create a ball
(I added the 1/2 teaspoon coconut oil, with my hands, as the last ingredient to take away some of the stickiness)
-Add extra flour or water as needed if too sticky or too dry
The dough smells so good from the peppermint and the coconut oil feels great on your hands (is good for your skin, too)! A great winter pick-me-up! 🙂
—————————————
I put the Peppermint Play Dough into a bin with some mini marshmallows (snow!), peppermint candy, and pipe cleaners made to look like candy canes. Little J really liked this sensory bin. He liked it even more once he realized that everything was edible (well, besides the pipe cleaners)…although, I didn't let him eat anything, just a quick taste of the mint! 🙂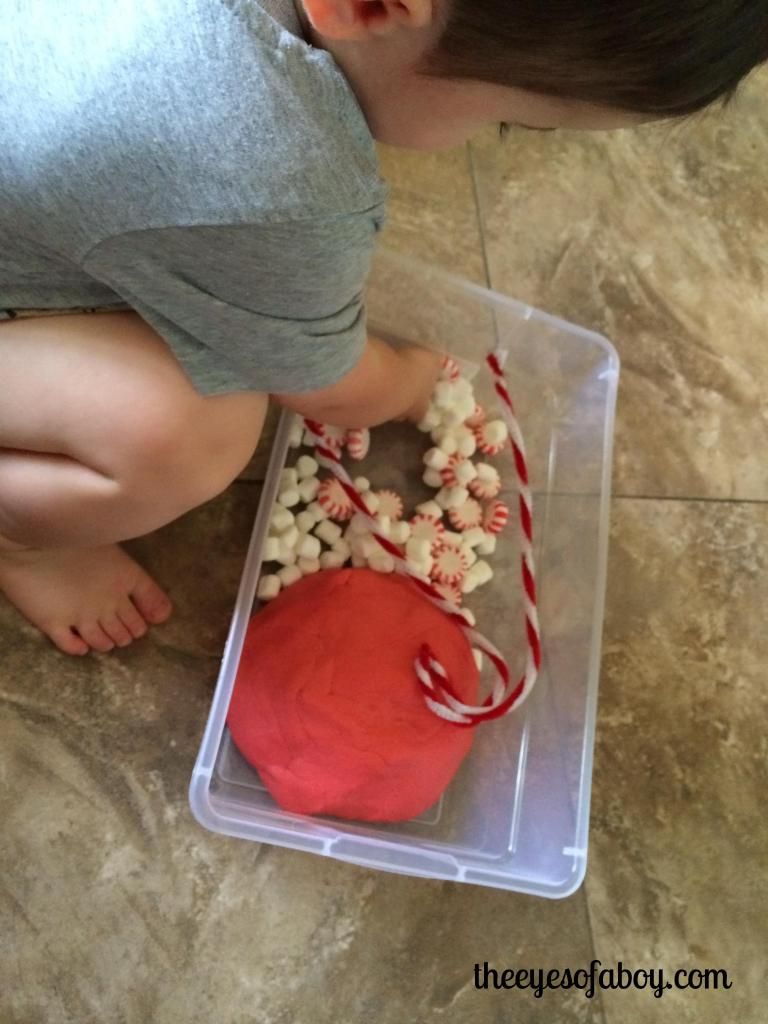 At one point, he started picking the bin up to dump everything out onto the floor, and that's where I stopped our exploration of the sensory bin. I fed Little J lunch, and popped the play dough into the fridge. After lunch, I look everything back out, and the dough was nice and cold!
He liked it even better once it was cold! I kept the mints wrapped this time and he didn't attempt to eat them. We used a lot of senses for this bin. The dough was red and smelled like peppermint, felt smooth and cold. The pipe cleaners were soft and furry. The mints tasted good. A total sensory overload! Success! 🙂
If you are new to my blog, please follow me on the social media of your preference to stay connected for the latest blog posts and updates! 🙂