This post contains affiliate links to reference items we used in this activity
Yesterday I was quite brave! I set up an easy water sensory table station on our
KidKraft Star Table
complete with many different color waters, in various sizes and shapes of containers. On the side there were spoons, droppers, and scoops to play with and explore the water with, too.
Little J, almost 19 months old, has been very curious about water lately, specifically pouring it and transferring it from container-to-container. He doesn't want the lids on his sippy cups anymore, either. So, as soon as Little J saw the set up, he was super excited and eager to get to the table.
Easy DIY Water Sensory Table – Exploration Station for Kids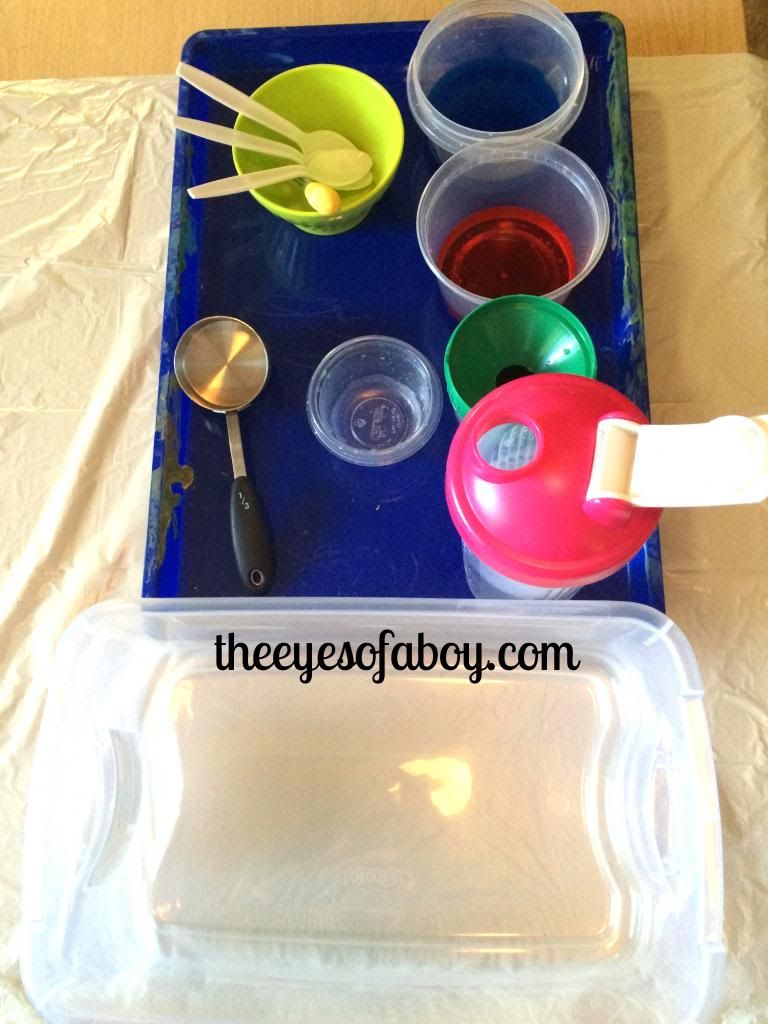 The set-up
He took a seat in his little chair and didn't waste any time! He got right into the green colored water.
The container made it was very easy for him to pour and watch the green colored watch come out into the clear container below.
Next, he wanted to scoop some of the other colors. He really enjoyed the scoop, too!
I am really thrilled that he wanted to learn how to use the medicine dropper, which isn't that easy for little fingers. It was a great technique to help improve his fine motor skills. He actually did squeeze hard enough to suck up the red water and transfer it into another bowl. Check out that cute little grasp in the photo below! 🙂
Overall, this was an awesome activity!! Easy to set up, and surprisingly easy to clean up, since I lined the table with a garbage bag before we started. He didn't even spill much on the floor, which I was pretty happy about! We will definitely be doing this again soon. It would be great for a day indoors or outdoors, too. Either way, your little one will love to play with the water and watch all of the different colored waters mix in the containers.
If you are new to my blog, please follow me on the social media of your preference to stay connected for the latest blog posts and updates! 🙂