I'm so thrilled that I am able to be a part of the fun collaborative series 40 Sensory Bin Fillers hosted by
Little Bins for Little Hands
in which a different blogger features a different type of sensory bin material each day. You can check out the whole series
here
.
Our sensory bin filler was
CONFETTI
!! Could it get any more fun than that? It should seriously be called conFUNtti, because that's how much my kids enjoyed it 🙂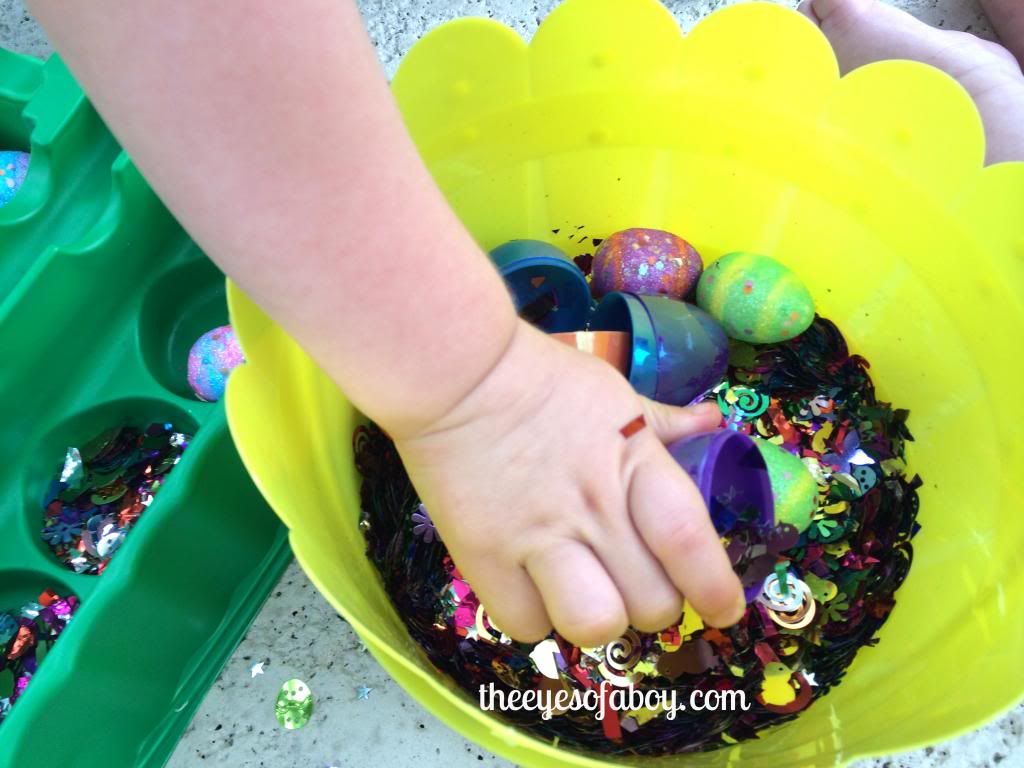 We took our sensory bin outside to play, since there was a ton of confetti inside of the basket. One wrong move and my floors would be glittering for the next 20 years!
Little J is always excited to play and explore any sensory bins I set out for him. He even asked me to put out another tray next to him so he could scoop and transfer the materials from one container to another! He's a pro at this 🙂
Baby L, who is now almost 7 months old, until this activity, hadn't experienced a sensory bin yet. He is sitting up nicely, and seemed super interested in what Little J was exploring, so I let him check it out, too! I paid very, very, very close attention to make sure that none of the small pieces went into his mouth, and he didn't really try to eat it. He was just very focused on everything he was seeing and touching. I'm really excited that he can now join in on some of Little J's activities, too! 🙂
Little J opened up the plastic Easter eggs, and used each of the halves to scoop the confetti. He loves
transferring materials from container-to-container
, so this made his day! Baby L used his hands mostly, and watched what big brother was up to. Overall, this was a fun sensory bin, and I'm glad it was one that the boys were able to enjoy together!
Related Posts:
If you are new to my blog, please follow me on the social media of your preference to stay connected for the latest blog posts and updates! 🙂