We received a complimentary pair of Pediped shoes in order to conduct this review. All opinions are our own. Affiliate links are included to help you find the products mentioned.
Little J is almost 2 years old (wow, I cannot believe I just wrote that!) and his feet have been growing like crazy! It seems like every time I put his shoes on him they are smaller and smaller! He recently needed a new pair of shoes again, and I was really excited to have him try out a pair of Pediped Flex toddler shoes.
We picked out a pair of
Pediped Flex Jake in Navy
. They have a nubuck/leather upper and genuine rubber sole. They have super cute faux laces and a velcro strap to help the shoes stay snugly in place on a very busy toddler.
The Flex line of Pediped's features the Flex Fit System(TM) which allows children to adjust the fit of their shoes, and prolong the length of wear…and that means a lot to me, when it seems like I'm buying shoes every few weeks! They are also approved by the American Podiatric Association (yay for healthy feet!)
When they arrived I loved them instantly! I asked Little J if he wanted to try them on and he immediately said "YEA!"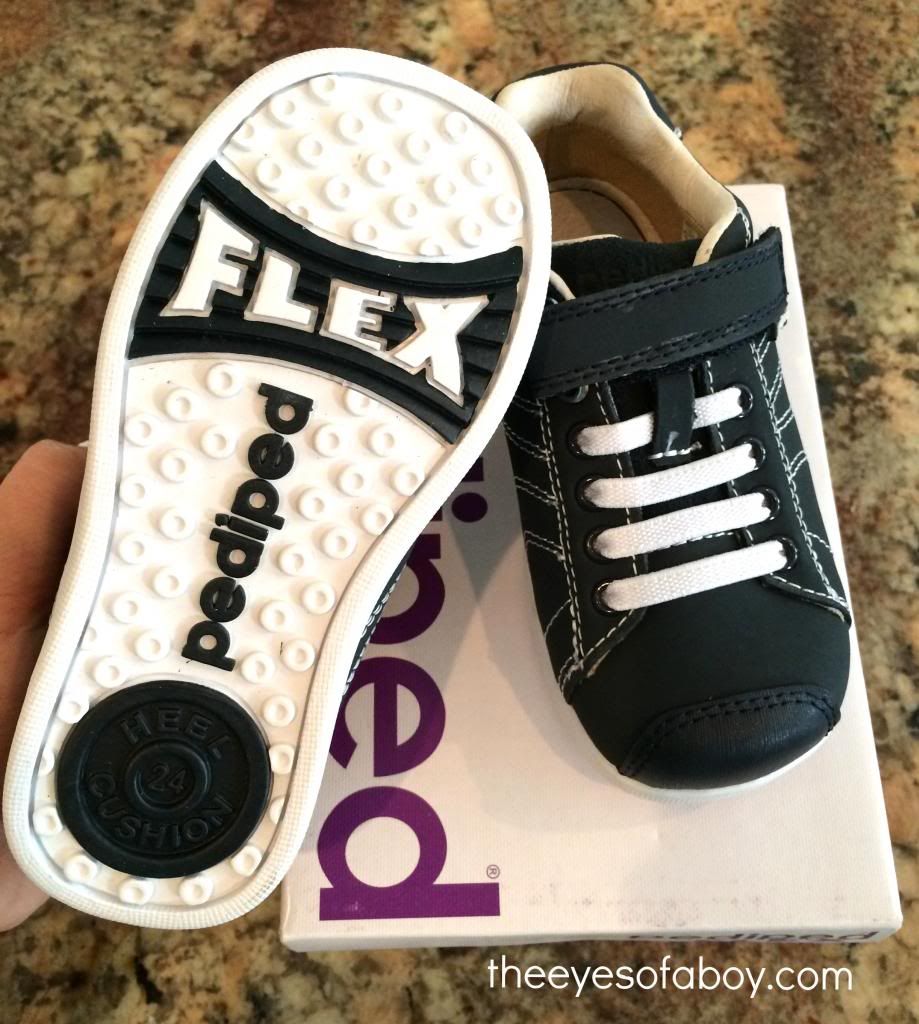 We put on his new shoes, and outside we went! He played on
his slide
and ran around with his
bubble lawn mower
, and really gave the Pediped Flex's a good breaking-in. He went up-and-down the stairs of the slide's ladder a bunch of times. He ran from one end of the backyard to the other with his lawn mower.
When he was done playing outside I asked him if his shoes were comfortable and he said yes. I think he really loves them as much as I do, because he wants to wear them pretty much everyday. I think we will definitely be buying the Pediped Flex's in another size once he needs another new pair of shoes!
Pediped is also offering a free pair of ANY (not just the Flex Jake's) of their in-stock shoes to one of my lucky readers! Please enter the giveaway below for your chance to win. Giveaway runs from 5/5/14 – 5/15/14 – US entries only, please.
If you are new to my blog, please follow me on the social media of your preference to stay connected for the latest blog posts and updates! 🙂